Welcome to Hong Kong.
I am entirely familiar with the area above,
I can even navigate amidst the chunk of buildings on the right
to identify the precise location of the Esprit outlet.
Having said that, I spent the week traversing the MTR,
only to discover on the last day
that Hung Hom (the station which we stayed at, next to the concert venue)
was only one stop away from Mongkok.
I had spent the past few days travelling to Tsim Sha Tsui,
then going up to Mongkok from there.
OH WELL.
What a boring way to start my HK entry.
What about some Prada?
On my way to the Prada outlet,
I dropped by Times Square for a quick makeup spree fix.
Behold, Space.
for discarded, off-season Prada & Miu Miu
I was alone in my joy, I had spent a hefty sum of taxi fare and toll fees
just to get to this spot buried in a residential area.
And next to a wet market.
The good news is there was nothing worth buying
(ie. no hole in my pocket!)
Don't go there, at least for this season.
Hung Hom :)
Goodness, I took a similar pic,
that was 2 years back for David's Love Can concert
This is what we use on stage
to balance our sound in our in-ear monitors.
Oh, and it's not mine -
it's Kaweii's. With a double i.
Mike and mini-mike!
Bosco of Powermax, who provides the sound equipment for the concerts :)
Random lunch:
cheesy noodles
tomato noodles.
they taste as good as they look bad.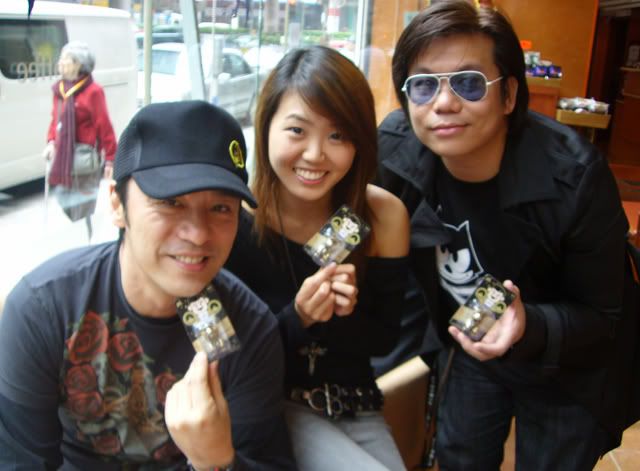 met a friend, graphic designer Danny Chan,
who designs toys as merchandise for kenny B, andy lau, just to name a few :)
this is what we do backstage before the concert...
.
.
.
.
.
.
.
.
.
.
.
.
.
.
.
.
.
.
yes, we all gather and play NDS.
specifically, MarioKart!!!
while Elisa and I sit at our makeup and hair chair,
we rage a 6-player war.
darling xiao mi, who dolls us up.
the guys just turn up 5 min before standby time
to change and launch into chillaxing mode
exclusively available here:
the one and only full band pic (which is rare by itself already)
plus David himself,
right before the show :)
(...too lazy to edit the lights out)
this is also the 1st time i took pics of David's concert from the stage :)
can you spot yourself? :)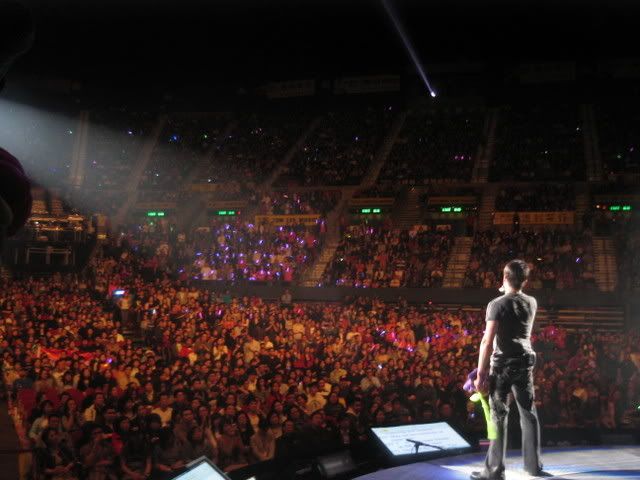 we definitely had a lot of fun every night,
especially during the new dance medley!
everybody loves kungfu fighting~!
kheng long sings!!!!
"I feeeeeel gooood~!"
jamie sings!!!!
"I feeeeeeeel niiiice!"
HIIIIGHHHHHH
always happy to find pics of myself :D
i bet you guys were really high too!!!
After 2 shows, we went for a team lunch just before the final show!
feels like a school excursion all over again :)
Destination: Clear Water Bay for fresh seafood!
cap buddies from Mongkok!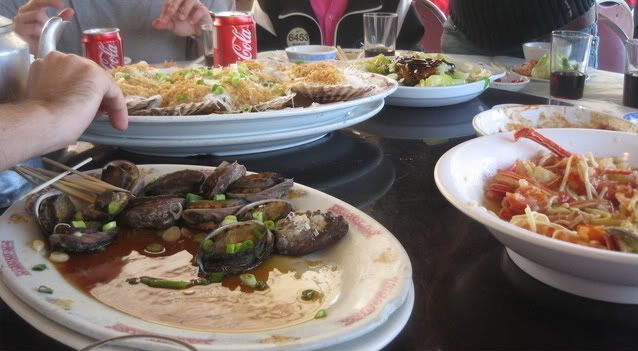 i've never had so many varieties of tangy, chewy, rubbery seafood in my life,
all on one table.
the girls flank mike
what are they doing?!
jamie is pensive...
or maybe just bored...
fresh for the kill
As always, dessert to top off a bloated stomach,
durian puffs, mango puffs, sesame paste with sago, endless....
words of dessert wisdom
from a famous stretch of 满记
we bumped into 麦兜
last day of show,
we arrived at the venue with the rose (from the fans yesterday)
twirled around our mic stands :)
so we went ahead with it :P
nearing the end of the show,
jamie and casey decided to take it one step further
in beautifying their instruments...
and we head home...
upgraded entertainment system onboard entertaining me silly :)
and... SOME of my loot from HK :)
love...