while we're on the topic of beaches,
me and some folks spontaneously invented this game!
we decided to kayak at East Coast Park for some mindless fun with the sun, sand and sea,
and after about 10 minutes it got pretty boring.
not to mention the amount of trash that was floating around in the sea.
we started to hoist them up with our oars onto our boat.
and it was pretty challenging, considering the direction of the waves, the direction our kayak was floating at, and it was almost like a video game!
a variety of items... all plastics!
We collected an entire picnic collection, a shoe, a tennis ball, beautiful glass bottles.
It escalated into pirate warfare,
we would snatch the most desirable and interesting piece of trash from each other's kayaks.
The tennis ball and that huge piece of blue plastic was in high demand.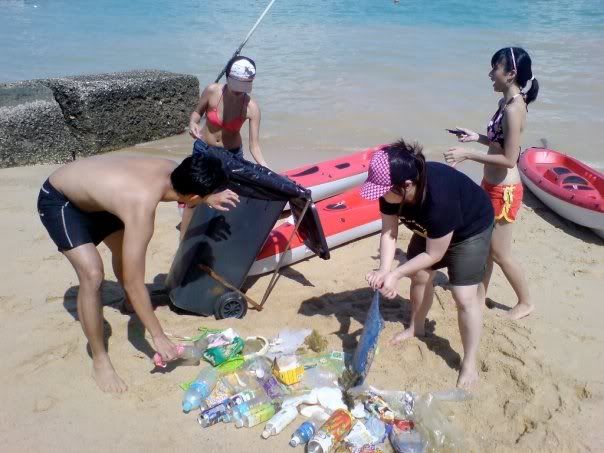 i don't know what the kayak-rental guy was thinking,
but i hoped that he would be moved in some way.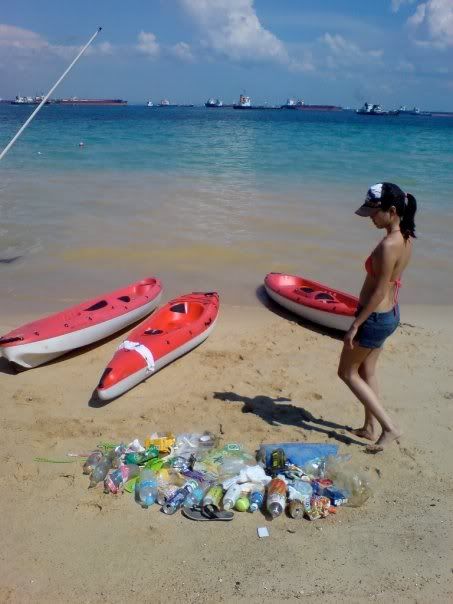 i encourage you to try this,
or simply just be more conscious when u trash stuff on the beach.
it doesn't disappear.
perhaps he would have more influence than myself:
jason mraz is all about being eco-friendly.
check out
his blog
for daily inspirations.
small simple steps on water conservation,
and mindfulness.
i'm glad i found a
like-minded friend
through his blog.