I had an awesome time working with the incredibly popular, but humble and sweet Christian Bautista, hope to sing this with him again soon :)
When I first heard about singing with Christian Bautista, I immediately recalled his hit song "The Way you Look at Me" :)
I was tasked to write the Mandarin lyrics for my parts, and I took on the challenge immediately!
My producer Tat Tong and I rushed them out in 2 days... here it is!
It was not easy thinking of matching the Mandarin parts with the English parts, and especially when we had to work in the Mandarin bits into the harmonies.
I'm glad Christian took to the challenge and sang the last bit in Mandarin!



Please Be Careful With My Heart


Music: Jose Marie Chan
Lyrics: 鄭可為/唐宏達/Jose Marie Chan


-->
脆弱的心
交給了你
請對我小心翼翼
你我之間
跨越界限
哪怕距離多遙遠
不管地动山移
改变不了我的坚定
And 'til life is through
我始终跟隨你
不管
歲月來襲
相信永恒的美丽
From the very start
答應我永不分離
I love you and you know I do
There'll be no one else for me
Promise I'll be always true
For the world and all to see
Love has heard some lies softly spoken
And I have had my heart badly broken
I've been burned
And I've been hurt before
So I know just how you feel (
和你一起
)
Trust my love it's real for you (
愛你需要勇氣
)
I'll be gentle with your heart
I'll caress it like the morning dew
I'll be right beside you forever
I won't let our love fall apart
From the very start
I'll be careful with your heart
不管地动山移 (地动山移)
改变不了我的坚定 (我們的坚定)
That 'til life is through, I'll still be loving you
不管歲月來襲 (歲月來襲)
相信永恒的美丽 (永恒的美丽)
From the very start (From the very start)
From the very start
From the very start 答應我永不分離
答應我永不...分離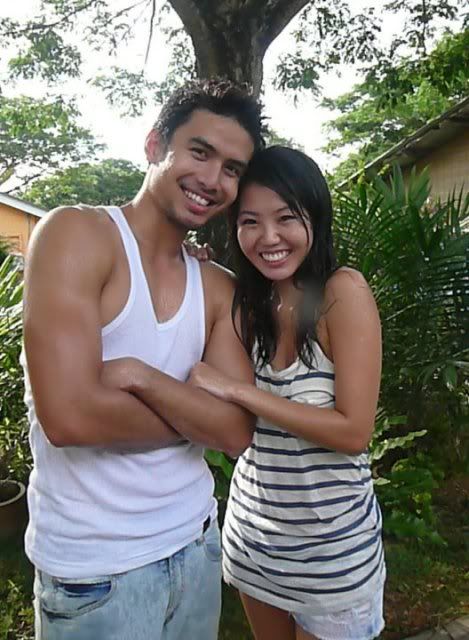 Meeting him for the first time and we had to act like lovers! :p *shy*
Some behind the scenes pictures
here
... :)