spotlight on
www.alivenotdead.com
:)
thanks to the awesome people from HK!
to those not in the know,
it's like MySpace, for asians.
this week particularly, i'm a little half dead actually.
for 3 consecutive days, i had Amei concert rehearsals.
Amei wasn't here, so I had to sing all her lead parts for rehearsals -
including 4 high energy medleys (namely - opening, rock, hip-hop, crazy party ending)
and belted countless ballads.
(actually i just whispered and wheezed through them,
trying not to thrash my voice completely.)
after which i had to rush down to an event -
Magnum icecream launch @ Barfly.
Theme: Sexy Naughty :)
Yummy! I thought it was gonna be balloons and magicians,
but Eva Longoria is the new spokesperson.
she is desperately HOT.
the tagline:
Drooling is permitted. Dripping is not.
HA!
after which, rush to Harry's @ Holland V for 3 sets.
The next day, repeat Amei rehearsal,
rush to event -
Milus Timepiece Launch for Visa Infinite cardmembers.
Awesome customised timepieces starting from $80,000. :)
This Milus ladies Merea TriRetro Seconds Skeleton watch features an 18k red gold case, white and gold skeleton dial, and a white alligator strap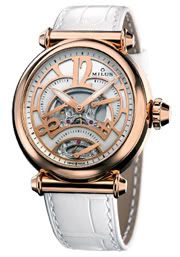 Rose-gold, yes please...
*droooools*
Mmmm..
I can stare at this watch for hours...
like literally, you know, for the time...
LOL
after which, rush to Indochine for another 3 sets...
FINALLY!!!
long awaited weekend break!!!!!!!!!
i haven't stopped singing/recovered,
since my Esplande Lunchbox and Bangkok Jazz showcases...
PS. i used to really like the white Suzuki Swift.
screw that, i've found my new dream car.
Matte Black Nissan GTR.
Parked in front of the hotel, and I couldn't take my eyes off it.