i'm an OMY
blogger
!
very happening interactive news website,
and it's bilingual!
i'd also be performing at the omy.sg launch!
venue: Vivocity Amphitheatre (Level 3)
time : 3pm
programme lineup
here
.
and omy!
i changed my hair!
chemical abuse + freaky hairstyle by master kef!
at this stage,
i am always fascinatingly curious about how my hair colour would turn out.
it was to be different shades of brown,
so milk asked: 会不会像咖啡,又掺奶,又掺巧克力那种?
and kef said :Yalo.
milk: 哇。那不会是一颗很yummy的头。。。
(who says 一颗 for 头??
milk writes the bestest
travelogue
, which i am helplessly addicted to.)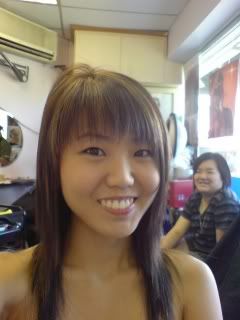 牛奶,会yummy吗?
my hair is officially falling apart.
i am smiling because i don't know it yet.
today i woke up and it was a POOF.
it is dehydrated, frizzed at the ends, and you know, a POOF.
now poofy hair, is something that requires high maintenance, extra attention,
all of which i refuse to give my hair on normal occasions.
i had plans to free my hair from chemical abuse
after my last dye-job,
but black was too much to bear after a while.
so now i have to suffer for my vanity. :(
in an attempt to hide my poofy hair,
i kinda just hide all of it la.
our 3rd video!!!
in cantonese!
i love this song :)
MP3 download
HERE!