last minute packing is not my forte.
i like to lay allllllllll my things - on my bed.
clothes to wear for 2 weeks
accessories
toiletries
shoes
underwear
laptop camera i-banking device mp3 player NDS etc
and then play music
and surf the net.
right now i'm listening to
India Arie
- Testimony Vol. 1 Life and Relationships
and blogging.
It's 4.39am,
and I have to reach the airport at 11am.
this is the best time to go...
hey! did i tell you about my latest buy from comex?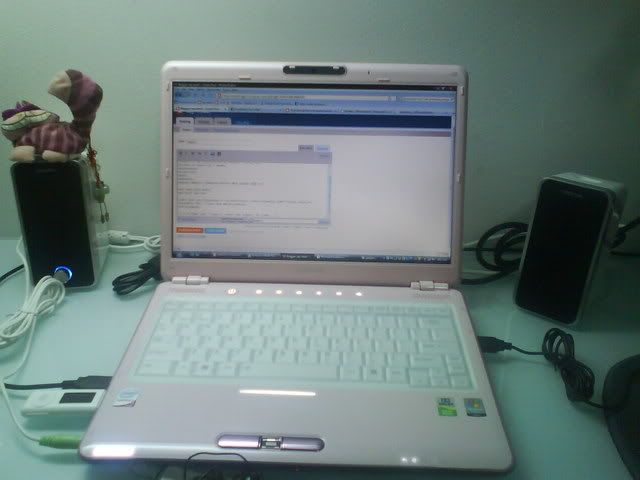 toshiba laptop and my awesome creative speakers!
i know... it's baby pink :)
i would have preferred a more classy gold sheen
but somehow i end up having many pink things in my possession ... somehow ...
packing, is like doing homework.
preparing, suffering now, for a future.
i suddenly feel a nostalgic rush
for those last-minute mugging sessions for exams,
and this is exactly what it is.
last minute mugging.
and of course, feeling an inexplicable urge to do all other nonsensical unimportant things like cleaning up your room, re-organising your worktable, surfing facebook, blogging rambling thoughts.
anything to get me away from packing.
more random stuff:
someone sketched me!
thanks fox! check out his site
here
:)
i like it :)
just like the header picture you see on the top left panel here,
a sketch of myself on a lined notebook in pink ink.
I met the lead singer of an underground band
Steranko
at a random MTV party,
and he did the sketch on a notebook that was in the MTV goodie bag.
very very random.
back to taipei!
i'll be in taipei for 2 weeks.
many friends ask,
oh! holiday or work?
Amei, or David Tao ah?
i hate to have to contain my excitement and delight,
and before i implode,
here's a little hint:
!!!!!!!!!!!!!!!!!!!!!!!!!!!!!!!!!!!!!!!!!!!!!!!!!!!!!!!!
i am sooo excited you won't believe it.
but packing still sucks!
5.04am.
urgh!