many of you who visit my blog love music, wish to sing,
and need that little push to go up on stage to perform.
as i always say, go forth and sing!
join as many competitions as you can,
know as many like-minded people as you can,
watch and learn from others,
and knock people off their feet with your own style!
NTU Cultural Activities Club (CAC) is holding its annual talent competition auditions NOW NOW NOW!
Join
Impresario
in these categories -
Vocal Solo, Vocal Group, Dance or Original Composition
Prizes include cash, and lots of enrichment classes to bring you closer to living your dream :)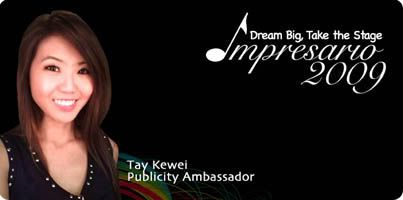 Kewei, a NTU Alumni, was once Impresario Finalist back in the year 2004!
She was also the composer of the first Impresario Theme Song, in its 12th nationwide talent search competition.
I took part as a vocal group with Ishi Lau in '04,
and sang a medley of oldies!
It was ridiculously fun, we even dressed retro for the show!
And won 1st runner-up! hehe :D
Ishi also took part in the Dance category later,
in a flashy white suit :)
What can I say?
Ishi is no longer in this world now, but we once fought hard for our dreams together.
I'm still fighting now...
I must say... there was a time when I was disillusioned about writing my own music,
cutting my own album independently.
It takes more than just wanting to be famous, wanting to perform.
Being a singer-songwriter is much more than that.
I never considered myself much of a songwriter, I simply loved to perform.
But when Ishi left so abruptly, I was very shaken -
and for a long time I didn't believe that he had gone.
I would think about him alot, from time to time.
And the first song I wrote, in a long long time,
I surprised myself - I wrote the words and melody together.
I always told myself and others, I'm not much of a songwriter, I can't write lyrics blahblahblah
But since then I knew that if there was a story to tell,
if there was a strong conviction to tell,
you could.
It was a song for Ishi,
and because of this song I found a reason to share with the world, what I had to say.
What I wanted to say through my song,
I wanted as many people to hear it as possible.
Maybe it's a way to remember him always.
And this project has only just begun...
Join
Impresario
!
They'll make such great memories in time to come ... :)
PS. Deadline for registration is 30 Nov :)