thank you all for your birthday smses, facebook wall posts, tweets, facebook msgs, emails.
i had my first cake in taipei courtesy of ms kelly poon and mr derrick hoh!
and celebrated with the Singapore PK Team in Taipei! :D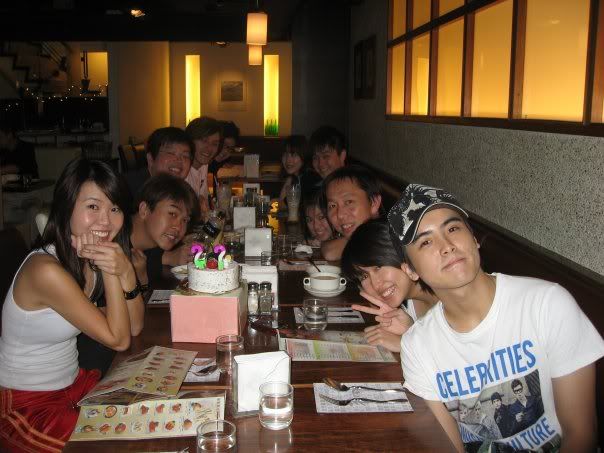 n i landed in Singapore about 11pm, and my smses never stopped...
i really wanted to reply each one of them - but I had no time! :(
i slept till 自然醒 and received a call from Taiwan (!!!)
and before I had the time to update my friends about my disappointing performance at PK,
I had to choose my songs for the next PK again!
and my luggage completely broke so I had to get a new one,
and I'm planning a spontaneous trip to London next month so I had to book airtix asap,
and I was feeling pretty miserable since I hadn't seen my dear ZPGY friends in ages...
but they surprised me (successfully! i must say!) at my house after my family dinner !!!
LOOOOOVVVVEEEEEEEEEEEEDDDDDDDDD
i was feeling really quite tired, and when i flipped the lightswitch to my room,
it flipped back.
eh?
so i flipped it on and it flipped off again.
Ginny: "Hi Kewei."
Kewei: "AAAAAAAAAAAAHHHHHHHHHHHHH!!!!!!!!!!!"
(PS. where Ginny was hiding near my bed, there was another light switch)
And the rest of them (in the order that I saw: Dawn, Ein, Niko, Edmund, Milk, Mad, Kitty!) appeared in rehearsed succession yelling SURPRISE!!!
(they rehearsed 3 times to prevent 冷场 after the SURPRISE!!)
i was genuinely stunned.
i only started laughing about it .... 10 minutes later.
after the whole birthday cake and candle lighting and blowing and wishmaking hoohaa.
i just had to describe the entire SURPRISE setup because it's my FIRST!
and it was a GREAT ONE!!!
hahahahahahahahaha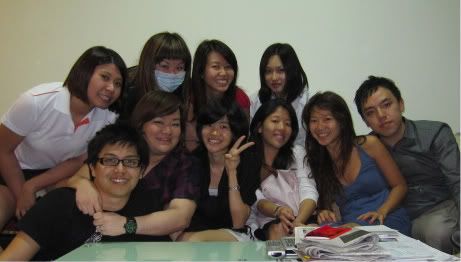 Thank you ZPGY all for the love, and my dear sis for coordinating the ambush :)
Okay, and in 4 hours I will be taking off to Beijing for Leehom show,
and my throat is still bad...
and the doctor gave me a short course of STEROIDS (!!!) since i just can't find time to rest.
all this flying is insane for regular sleeping hours.
and in all insanity, i just had to quickly shoutout with love to all who wished me a happy birthday, at 3:30am when i need to sleep NOW.
so THANK YOU, again. :)