you know what i need less in my life?
snail mail statements from the bank. the phone company.
bills, notifications, advertisements! so much trash!
who keeps this stuff! or even if you do, do you punch holes and file them like you did in the 90s???
okay for the longest time,
i did the best that i could - i kept all these envelopes/paper that was printed on one side
for future use.
my to-do list.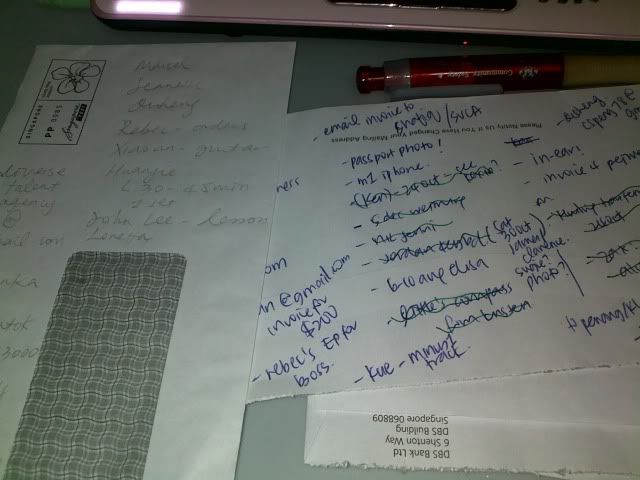 now i just seem really silly.
i should stop the problem at its source!!
I've spent some time and effort compiling a list of billers for all of you -
I had to sieve through all the intricacies of their websites to pull out the direct link for you.
Please click to receive emails in your email inbox, and not your snail mail box.
No more jammed printers, no more envelope licking, no more dazed workers sorting the mail,
the postmen can chillax and drink some coffee instead of buzzing around pushing paper, no more trees getting killed.
Yes please to bills in my inbox!
M1
Singtel
Starhub: Call 1637 (no link to be found! argh)
POSB
Citibank
UOB
(after logging in to your account, you can click on Manage My Accounts > Stop Sending Account Statement)
HSBC
Standard Chartered
OCBC
You could also check out
Green Post
which offers you a consolidated stop to view e-bills from certain billers.
Green Post is a great idea, but it still hasn't worked out an integrated way of informing the billers to stop snail mail bills once you've signed up for their service.
At this moment, you still have to inform your individual billers to stop snail mail bills.
BUT you can still show your support to go paperless by petitioning to
Stop Envelope
received from your billers.
I just spent an hour and a half on this!
I dug up more sites and interesting stories on saving our planet, will share soon :)