1st time performing at Asiaworld Expo!
This venue was right next to the airport,
so we stayed faaaar from the city.
took the airport express to town
met up with some friends...
happened to catch this show!
Merry Blue Christmas sponsored by Blue Girl Beer
artistes included 关楚耀,谢安琪,Hotcha, 应昌佑,周柏豪,卫诗(卫兰's sister)
& 方大同!!!
i waited for him all night...
doing his thang
(ps. i'm available for hire as backup vocalist! hehe)
i especially liked kay's sense of style -
it was obvious that everyone had to don something blue for the night,
and while everyone else came in a blue top,
she stood out in this :)
24-hour American breakfast @ the flying pan :)
for those illogical late night cravings...
caught the last airport express back to the hotel...
it was a ghost town.
i don't think i have been alone at an unearthly hour
in a strange wide space like the Expo
in a foreign land
with not a single human being in sight.
i snapped many pictures of myself walking home
at random
just in case i got kidnapped along the way by aliens.
and i kinda like them blurry pix :)
and show day was AWESOME.
i can finally gush like a #1 groupie here!!!!
me: 学友哥!OMG!!! 你是我的偶像!
我以前12岁。。。买的第一张CD是你的<真爱>CD!!!
jacky: 哇。。。那我现在知道你几岁咯!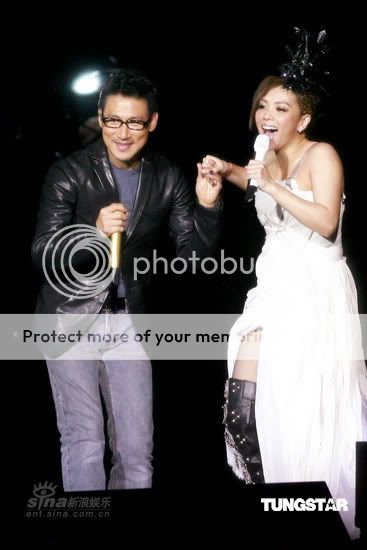 who can top amei ?? or jacky???? nobody!!!
thanks to lu for sending me this!
all of us - the backing vocalists, guitarists and bassist stood in a line and sang 头发乱了!
Amei sang the 1st half of the song, and
Jacky appeared for the 2nd half.... the crowd went berserk!
That's when we came down to join in the fun!
This was her new opening outfit for the show :)
Amei was as usual great with the crowd,
the last time she held a concert here was 7 years ago!
Only in HK can you get away with such dramatic outfits! haha!
my view of her poofy dress
All glittered up for Hong Kong
with amazing props!
that look absolutely unreal here...
thanks to Ines for this!
the live editing team at work by the stage
navin's new hair!
the bridge across the centre of the stadium brought Amei closer to her fans...
another great show draws to an end!