part 2!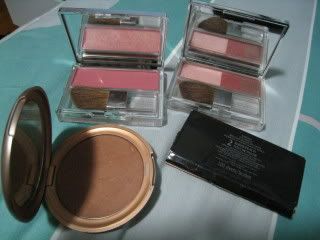 clinique precious posy blush
- shiny blush! i was never a fan of glitter in makeup, but this is actually pretty nice.
clinique bare pinks blush
- darker shades good for contouring
stila bronzing powder
- i love this but i tend to get carried away and end up having my face a different colour from my neck haha...
shiseido blotting paper with peach powder
(or something like that)
- great for mattifying your face
ettusais lip gloss
- the applicator is a flat plastic piece, which makes sense for a smooth application - super shiny
i always liked orangey shades because i tend to imagine that my skin color is more tan than fair... :p
maybelline lip gloss
- mm i got this for free buying some magazine. but it's nice and pink!
loccitane cherry blossom lip gloss
- yummy lipsmacking sticky gloss
kiehls lipbalm
- with a tint of red, this is perfect for light makeup
carmex lip balm
- i can't stand waxy sticks of lipbalm because they absolutely suck for cold weather. this is the BESTEST lip balm i've tried, better than burts bees or that tin of rose or whatever.
no more dry lips.
BUT it does have a weird medicinal taste/smell, (which i like!) but some people might not :p
they are everywhere in taiwan convenience stores and are dirt cheap.
this is my travelling stash aboard the plane.
wuta camille hand cream
- amazingly lightweight and works so well, great smell, dirt cheap at taiwan convenience stores.
loccitane cherry blossom handcream
- honestly, i prefer the wuta camille. this expensive tube looks pretty though. i use it when i feel terrible on board the plane and just need to smell it to feel happy :p
avene water spray
i don't know why these sprays cost so much money.
i don't know why i buy this.
when i wake up in the plane and my eyes are dry, this is the only thing that can save me.
convertor
stick your own earphones into this and watch your movie in peace!
no fear for the early collection of earphones by the flight attendants!
random origins stuff
clear improvement active charcoal mask
- who can resist the clear pore effect of sebum sucking charcoal?
origins spot remover
- i only trust this small bottle of potent stuff for pimples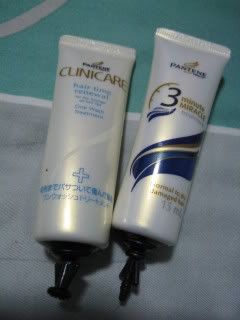 pantene clinicare is GOOD STUFF. i usually get my stash from Taipei or China.
the hair mask is great -
i think the Singapore equivalent is the one on the right - some 3 minute miracle thing.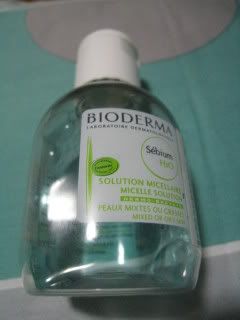 bioderma solution
- this stuff is now available in singapore, i used to get it from Taiwan.
i used shu uemura's cleansing oil for the longest time (yellow, green, pink, now the latest purple) and i still use them once in a while, but this is the best non-oily makeup remover ever.
and honestly i feel cleaner seeing that my lashes and eye area are free from black gunk from the cotton pad.
with the oil cleanser i never really know.
i'm now onto my new book Eat Pray Love by Elizabeth Gilbert.
it is perfect for me at this time of my life :)
more on this soon.