girls are always infinitely interested in what makeup/skincare other girls are using.
so this post is for the girls.
they'd understand.
guys, you don't really want to know or hear about this bimbotic side of me.
i have used enough makeup/skincare throughout my growing up years
to know what i like, and what i will eventually use.
too many times, i was taken in by the glitter of pretty packaging and photoshopped pictures
to think i need another shade of blush, eyeshadow or lip gloss...
but experience has taught me they just end up being in a corner of my drawer,
forgotten after some time!
i've bought dark blue, light blue, green, white eyeliner blah blah blah to find that i really don't use them anyways.
etc etc etc
etc etc
etc
nowadays i am SOOOOOOO unexperimental with colours!
i really prefer to stick to basics. :)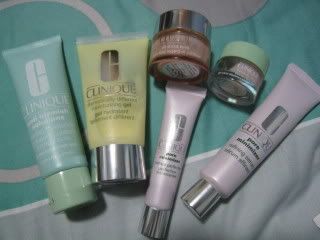 allll the basics!
clinique anti-blemish moisturizer
- great for night use
clinique dramatically different moisturizing gel
- great for day - lightweight and does its job!
clinique pore concealer
- smooths out imperfections and pores, but i usually skip this since i have too much stuff on my face
clinique pore minimiser
- this is what i use instead of the pore concealer, it's more skincare than makeup.
clinique all about eyes
- i am addicted to eye cream. i feel like the lines around my eyes dramatically increase if i forget it at night.
clinique moisture surge
- when i fly, i wear nothing but moisture surge all over my face. it's the bestest!
bronze primer from smashbox
- it's so raved about i got 2 bottles from HK. it feels really smooth upon application but honestly it feels kinda weird.
i use liquid foundation, so the foundation almost just glides over it. (not a good thing)
not a fan.
shu uemura UV under base
- i've been using it for the longest time, 1st it's mousse, 2nd it's lightweight, 3rd it makes your skin better, 4th its got UV protection, 5th it's just too awesome.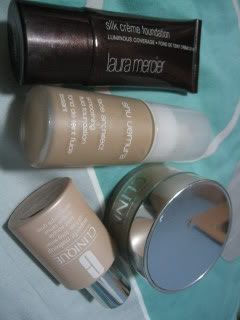 laura mercier silk creme foundation

- i've heard much about this brand, couldn't decide which kind of foundation/shade to get.
this one is too sandy for my face... mm if you know what i mean.
shu uemura smoothing fluid foundation

- i use this all the time.
clinique oil free foundation

- this
has less coverage, great for light makeup :)

clinique loose powder

- it does its job :)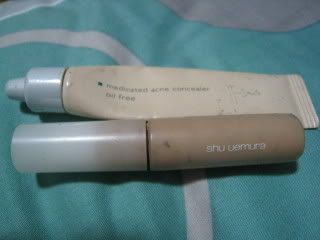 ettusais concealer
- really old tube. generally effective under liquid foundation.
shu uemura concealer
- another highly raved product. it works for me - good coverage, not too cakey, but doesn't come off easily. most importantly it blends well!
i've seen one too many pictures of girls in clubs, whom upon flashlight have startlingly obvious concealer under their eyes.
glow glow glow!
maquillage illuminating powder compact
- i love this! for nose, tzone, browbone etc
shu uemura illuminiser
- this stuff is great for browbone, cheekbone and nose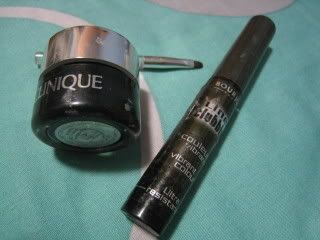 clinique eyeliner gel
- eyeliner is very simple for me. i just use this gel with the tiny brush.
i was using liquid liner for the longest time - but it still smudges since i have inner double-eyelids.
after this i am a convert to eyeliner gel!
bourjois liquid liner
- i bought this bronze shimmery colour for fun...
talika eyelash gel
- i have really long lashes, but very few -_-" this... kinda works.
i don't know, i always forget to use it
H&M gold glitter eyeliner
- this thick crayon is perfect for lining under the eye, for the inner corner near the nose
red earth glitter gel
- for concert stage makeup, i just put tonnes of black eyeshadow, and layer this gel over.
glitter shadow doesn't work come on, it just falls off.
pat the gel over, and it STAYS.
yves saint laurent concealer
- highly raved product - i hardly use it now, the color is off for me..
clinique high impact mascara
- this works for me, and i prefer it to the washable mascara that they have...
clinique eyeliner crayon
- good for undereye lining...
(part 2 to come...!)
lastly,
just in case you were thinking this is all beauty without brains,
i am also currently reading Rant by Chuck Palahniuk.
i borrow books from the library and never remember to return them, chalking up massive fine amounts.
i'm never a book buyer unless i read something really good, which i then buy to keep.
it is an insane book, with such striking imagery and revolutionary ideas similar to his famous Fight Club (which made me first fall in love with his writing) that everyone should go read it.
not for the faint-hearted though.